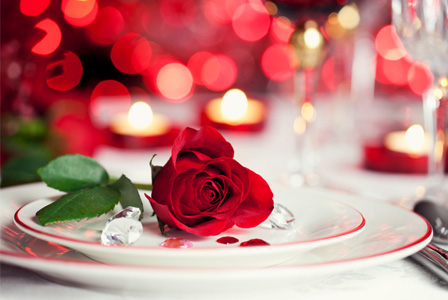 Healthy Ways to Say "I Love You" this Valentine's Day
(Roses Not Included)
Valentine's Day is a great opportunity to spend some quality time with the ones you love—but it often means going out to a nice (heavy) restaurant meal and eating lots of chocolates.
There are plenty of other ways to show the love on this special day. Why not try cooking your own healthy and easy, yet elegant, meal at home instead? Or going on an adventurous date?
Here are better, healthier ways to show your valentine you care this week (or any date night!).
Cook a Romantic Meal at Home
You'll be surprised how a simple entrée of roasted chicken breast can be transformed into an impressive meal with the addition of flavorful sides and a unique dessert. These recipes (all from our Recipes for Healthy Living!) offer a balanced meal that you can enjoy without much effort:
These quick chicken breasts can be used for anything—serve with steamed veggies and brown rice, use them for chicken salad or slice thinly for a sandwich with whole grain bread, spicy mustard, fresh spinach and thinly sliced tomato.
This Recipe Serves 4
Ingredients
Cooking Spray
4 4-oz boneless, skinless chicken breasts
1 teaspoon salt (optional)
½ teaspoon ground black pepper
1 Tablespoon olive oil
¼ cup lemon juice
2 Tbsp minced garlic
1 ½ tsp. paprika
Instructions
Preheat oven to 350 degrees. Coat a baking sheet with cooking spray.
Place the chicken breasts on the baking sheet.
In a small bowl, combine salt, pepper, olive oil, lemon juice and garlic and whisk until combined.
Brush on or pour lemon juice mixture over each chicken breast, coating evenly.
Sprinkle each chicken breast evenly with paprika and bake in oven for 35 minutes or until the chicken is cooked to an internal temperature of 165 degrees F.
Let the chicken breasts rest, covered with foil for 10-15 minutes before slicing or serving.
MAKE IT GLUTEN-FREE: Make sure your spices are gluten free and this recipe can be gluten free.
Green Salad with Raspberry Vinaigrette
This festive salad is easy to put together and makes for a light yet tasty side.
This Recipe Serves 5
Ingredients
Dressing:
¼ cup white wine vinegar
½ cup fresh raspberries, pureed
1 ½ tablespoons olive oil
¼ teaspoon salt
1 pinch ground black pepper
Salad:
4 cups mixed baby field greens
1 cup fresh raspberries
1 tablespoon pine nuts
MAKE IT GLUTEN-FREE: Confirm that the ingredients you are using are gluten-free, and this recipe can be gluten-free.
Instructions
In a small bowl, whisk dressing ingredients.
In a medium salad bowl, toss together salad ingredients. Drizzle dressing over salad and toss gently to coat.
Rustic Red Potatoes and Green Beans
This mixed veggie dish is a great example of how to increase your vegetable intake while controlling your carbohydrate intake.
This Recipe Serves 6
Ingredients
Cooking spray
1 pound green beans
6 petite red potatoes, cut into eighths
2 tablespoons olive oil, divided
1/2 teaspoon garlic salt, divided
1/4 teaspoon ground black pepper, divided
1/4 teaspoon dried parsley
Instructions
Preheat oven to 400 degrees F. Spray a baking sheet with cooking spray.
In a medium bowl mix together potatoes, 1 tablespoon olive oil, 1/4 teaspoon garlic salt, 1/8 teaspoon pepper and ¼ teaspoon parsley.
Place potatoes on half of baking sheet and bake for 15 minutes.
In a medium bowl mix together green beans, 1 tablespoon olive oil, ¼ teaspoon garlic salt and 1/8 teaspoon pepper.
After potatoes have baked for 15 minutes; add green beans to other half of baking sheet. Bake potatoes and green beans for additional 20 minutes.
Place potatoes and green beans in serving bowl and mix together.
MAKE IT GLUTEN-FREE: Confirm ingredients are gluten-free and this recipe can be made gluten-free.
Grilled Fruit Salad with Chocolate Drizzle
Try this for a delicious and somewhat different dessert! If you have fresh mint, chop some up and add it to this salad for even more flavor!
This Recipe Serves 6
Ingredients
For Sugar-Free Chocolate Sauce
1/3 cup cocoa powder
1 1/3 cup Splenda
2/3 cup water
1 tsp. vanilla
1 Tbsp Smart Balance
For Grilled Fruit
1 large wooden skewer, soaked in warm water
6 large strawberries, hulled
2 peaches, quartered and stone removed
½ pineapple, sliced into 1"-thick rings (or 1 can pineapple rings in juice, drained)
2 watermelon wedges, rind removed (about ¼ a small watermelon)
Cooking Spray
Instructions
Prepare an indoor or outdoor grill.
In a small sauce pan, whisk together cocoa powder, Splenda and water. Bring to a simmer for one minute over medium heat. Whisk in the vanilla and Smart Balance off the heat and set aside to cool.
Skewer the strawberries and other fruit on the soaked wooden skewer. Coat all of the fruit pieces with cooking spray and grill for 3-4 minutes on each just to mark the outside of the fruit. Do not cook all the way through.
Remove from grill and let cool. Cut the fruit into equal sized chunks and combine a medium bowl. Refrigerate for 30 minutes.
Divide the fruit among six bowls and drizzle each with 1 Tbsp of the chocolate sauce. Any leftover chocolate sauce can be refrigerated in an air tight container and used for up to one week.
Blueberry Lemon Yogurt Parfait
If it works with your meal plan, try our parfait with a quick five-minute prep time and only 19 grams of carbohydrates per serving.
This Recipe Serves 4
Ingredients
32 oz non fat, plain Greek yogurt
2 small lemons, zested and juices
¼ cup Splenda
1 Tbsp Vanilla
1 cup fresh blueberries
¼ cup sliced almonds
Instructions
In a medium bowl, whisk together yogurt, lemon zest, lemon juice and Splenda.
Add ½ cup yogurt to a parfait dish or small bowl. Top with ¼ cup blueberries, then another ½ cup of yogurt. Sprinkle with 1 Tbsp sliced almonds.
Repeat with three more parfait glasses. Serve immediately or refrigerate.
Get Your Heartbeat Going
There are plenty of fun fitness ideas that you and your significant other can enjoy just as much as a heart-shaped pizza. Take a dance lesson together, like a waltz or ballroom class. Get outside (weather permitting!) and go on a romantic hike or bike ride. Challenge your partner to see who can get to the top while rock climbing—indoors or outdoors!
Once you've worked up your appetite, reward yourself with a healthy, sophisticated meal (see above!).
Skip the Food and Go out on the Town
Whether you're single or romantically involved, there are lots of fun things to do on Valentine's Day without having to feel guilty. Take a trip to a museum you've always wanted to visit, or go see a movie (if you can decide on one together!). Watch a film at home if you're trying to save money. Learn new healthy recipes by signing up for a cooking class or relax with a massage (you might need it if you use the exercise tips above!).
Still Gifting?
FT has just the thing for you. Special deals just for Valentine's Day. Check it out here.